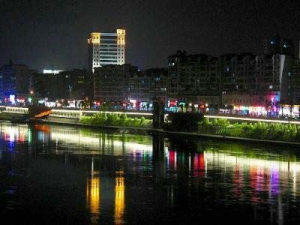 LEDs last considerably longer than typical fluorescent or incandescent lighting. LEDs rarely burn out like traditional lighting, but rather gradually decrease in light output over time. Their "life span" is defined as the time it takes until 70% of initial light output is reached, often 50,000 hours. Resistant to vibration and thermal shocks, LEDs perform extremely well with frequent on-off cycling. They have low heat output and are low voltage, making them energy saving and very cost efficient.
Pages:

More Details
PAR 20,30,38
Many sizes and styles
CREE 3 x 2w – 5 x 5w AC 100-240v
Available in Edison base

More Details
Replace sodium or mercury halide street lights with eco-friendly, cost-saving LEDs.
Available in:
LED 24 to LED 200
Edison base 5000-6500K,2500 LM
Wide variety for multiple specialty applications.
IP60 Frequency = 47-63 Hz

More Details
Replace harsh fluorescent lighting with bright, illuminating LED tube lighting. Easy to switch out ballasts.
Available in:
Warm white
Cool white
5w – 33w 2-8'
Pages: