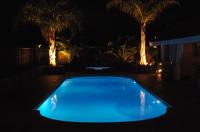 When it comes to lighting your spa, O'Ryan lights create an environment and a mood as unique as a tropical pool. The simplicity and versatility of our system allows us to combine O'Ryan components over 96 different ways to customize a pool or spa light just for you. And if that is not enough, we will design specific lights to fit your particular needs. Easy installation, worry-free maintenance and unquestionable safety…without designer pricing. Just think of us as the designer lights of the spa industry…engineered for brilliance!
Pages:

More Details
Engineered For Brilliance:
From its high-intensity low-voltage bulb to its superior diffusing lens, the AquaStarTM is efficiently designed to produce more light than you'll ever need.
Easy Installation and Maintenance:
Just drill a hole, insert the light assembly, and plug in the low-voltage transformer! That's it! No wires to cut, no costly air switches. The long-life, wedge base (or optional StarBurstTM LED) bulb replaces in a moment from outside the tub.
Unquestionable Safety:
Heavy duty, non-conductive housing, insulated cable, and UL recognized low-voltage transformer eliminates the possibility of electrical shock.
Designed For Looks:
For incandescent models we offer five, high impact resistant lens filters. They come in Red, Blue, Green, Amber, and Purple. The filters are designed to snap-on effortlessly.
Warranty:
One year limited warranty.

More Details
The BabyStarTM fits a standard mini jet (1-3/4″) hole and is designed specifically for jetted bath tubs and smaller spas.
Turn down your harsh bathroom lights and set the mood you desire with the soothing light of a BabyStarTM. Virtually any mood can be achieved with one of the five beautiful colored filters or optional StarburstTM LEDs that are available.
Simple installation, low cost, and unquestionable safety make the BabyStarTM a perfect addition to every jetted bath tub.

More Details
As with our AquaStar™ Series lights. The HydroStar™ was designed to maximize your light output while providing a worry-free environment. The sleek and virtually indestructible, HydroStar™ compliments any tub decor. A watertight removable lens allows easy access to the bulb from inside your whirlpool bath or spa. For incandescent models we offer five, high impact resistant lens filters. They come in Red, Blue, Green, Amber, and Purple. The filters are designed to snap-on effortlessly. As with all our lights, we offer a variety of StarBurst™ LEDs to suit your specific lighting experience. One year limited warranty


More Details
The Evolutionary Breakthrough in Underwater Lighting
Introducing the PoolStar™ 3000 Series – the most highly evolved pool lights under the stars. The 3000 Series is a complete self-contained lighting fixture that combines unmatched performance, efficiency and flexibility. In OEM and retrofit applications, it delivers brilliant, synchronizable color combined with the safety and longevity of a 12 volt system. The 3000 Series is the simple and economical change for which you have been searching.

PoolStar 3000 Series:
SP 1000
SP 1000VL
SP 2500
SP 2500VL
SP 3000
12 volt (7.5 watts) low voltage lighting system
StarBurst LED light
100,000 hours bulb life
Synchronizable without additional wiring or control devices
9 color modes: Vibrant colors; gentle chameleon colors, and a pulsating party mode
Durable, rust-free plastic 2.5" niche can
Power supply with 70' of cord, standard
Models for above-ground, vinyl liner, and below-ground pools

More Details
A typical installation (looking into the spa or tub). The StarBar requires two 1″ holes in the handrail pocket (standard for most spa, tub, or shower handrails). The maximum recommended length is 30″.Our Starbar design can also be retrofitted to the StarBurst 10 LED!


More Details
With the help of O'Ryan, you can transform your pool and spa into a luxurious retreat. Enhance the atmosphere of your next poolside event with a dazzling and pulsating light mode. The StarBurst™ Series of LEDs produce a dramatics setting with vibrant underwater color and lighting effects. Bath your pool or spa in captivating colors. Choose the "Chameleon" or "Party Mode" creating a continuously changing underwater light show.
•Simple installation
•Safe, bright, low voltage light
•Plugs into any standard outlet
•Durable, polycarbonate construction

More Details
The SwimStar light tube is manufactured of high impact polycarbonate. The Light Tube is completely sealed for absolute safety. The bulbs have a rated life of 1,000 plus hours. They are easily replaced and available from us, the manufacturer.
Pages: