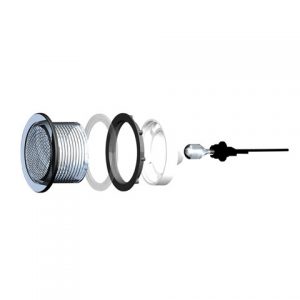 Engineered For Brilliance:
From its high-intensity low-voltage bulb to its superior diffusing lens, the AquaStarTM is efficiently designed to produce more light than you'll ever need.
Easy Installation and Maintenance:
Just drill a hole, insert the light assembly, and plug in the low-voltage transformer! That's it! No wires to cut, no costly air switches. The long-life, wedge base (or optional StarBurstTM LED) bulb replaces in a moment from outside the tub.
Unquestionable Safety:
Heavy duty, non-conductive housing, insulated cable, and UL recognized low-voltage transformer eliminates the possibility of electrical shock.
Designed For Looks:
For incandescent models we offer five, high impact resistant lens filters. They come in Red, Blue, Green, Amber, and Purple. The filters are designed to snap-on effortlessly.
Warranty:
One year limited warranty.