Dear Fishermen,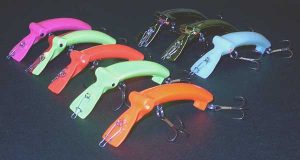 We would like to start by saying that this is not just another fish story. The tale you are about to read is the history of the Fish Invader. So with no further delay…
Dissatisfied with the current fishing lures on the market, a Native North Westerner, and fortunately for us, a Plastics Process Engineer pioneered the Fish Invader in 1993. With diligence and hard work this innovator brought the Fish Invader to national attention. The North American Fishing Club received positive testimonials and began recommending the lure to other fisherman. Through fierce competition by bigger and more commercially recognized manufacturers, the Fish Invader sales began to flounder. With the help of O'Ryan manufacturing and distribution, the lure has been experiencing renewed success.
Here at O'Ryan Industries we have been pioneers in manufacturing and innovation for the over 23 years. Our years of success has been documented in such magazines as Inc. 500 which names us one of the fastest growing private companies.
We specialize in Injection Molding, Mold Design, Prototyping, Tool Construction, Engineering changes and refurbishing of existing molds. We have a full in house staff of design, process, tooling and production engineers. At O'Ryan we are aware that Innovation is essential to a productive environment, and is important part of our philosophy.
Click on the following link to find out more information: www.bigfishtackle.com/top50/1305